If you are reading this article then there's every chance that your organisation has just had a safety incident and the quality of the investigation is quite poor. Also – you might be tired of seeing "spoke to operator and told her to take more care" or "we provided a toolbox talk for all workers to disuss the dangers of XYZ…." – knowing deep down that neither of those recommendations are going to prevent a repeat incident.
So how do we improve? I hear you ask.  Well, like most things in safety, it starts with LEADERSHIP:
The leaders in your organisation must learn that we investigate incidents to learn how to avoid repeating our mistakes, not to find someone to blame. Many leaders will claim that they already know this but as soon as there is an incident the mood shifts quickly to apportioning blame. We need to help our leaders (at all levels) understand the safety implications of their decisions which can lead to an incident. James Reason's research identified these as the 'latent factors' that can lead to accidents.
For an example, let's consider the photo in this article.  If the worker falls off the roof of this 2 storey building and injures himself, then the typical low quality investigation will probably get around to pointing out that the worker should have been wearing his 'safety harness'. It may also include poor supervision as a cause. The report will probably recommend that we may get back on the 'toolbox talk' bandwagon and possibly even retrain some workers.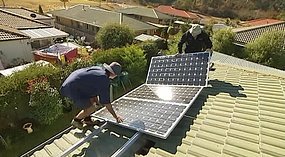 Can you see that we are stuck on human failure as THE cause?
While these are definitely factors that must be considered a good investigator will explore a full range of factors and then by asking the right "why" question enough times  open up the investigation in other directions that allow us to identify underlying system and cultural issues.
In our example we could consider the question of workplace culture, and ask:  "Why did 2 workers think that it was ok to get on a high roof with no protection?" .
We could also consider job planning and ask: "Why was there no edge protection scaffold to prevent the worker rolling off?"
The answers to these questions open up issues like budget decisions, poor risk awareness, lack of training, lack of agreed standards, poor or no management safety walks etc etc. Hopefully you can see that many of these 'contributing factors' to our example photo are rooted in the culture, planning and systems of work. This doesn't mean we ignore wilful negligence where it occurs. It does mean that we consider all relevant factors so that we can plan out effective corrective actions.
Many smaller organisations may lack the necessary safety resources to conduct a good investgation. In those circumstances, safety consultancy firms that can provide investigators who can facilitate an investigation. However, the organisation needs to at least begin the first part of the investigation so that a skilled investigator has something to work with. A full incident investigation will have these phases:
Respond to the injured person (first aid, doctor, ambulance etc) and contain the incident scene if safe to do so.
Notifiy the necessary people in your organisation, emergency servcies and/or the safety regulator if required.
Form an investigation team and plan the investigation.
Gather information such as photos from the scene, witness statements, training records, SWMS etc.
Analyse the information and create a timeline of events.
Indentify the basic cause and the contributing factors of the incident.
Determine the corrective and preventative actions.
Prepare an incident report and share learnings.
Implement the actions and follow up later to ensure that the solutions are still effective.
An investigation that has got to the stage of gathering information from the scene, including witness statements, is setting themselves up for a success when they hand over to an experienced investigator. In the longer term, a safety consultancy will assist your WHS team to develop the necessary safety skills so that they can conduct high quality investigations. However, as we said at the beginning, it starts with leadership understanding the principles of good safety leadership.