One of the nice things about running our business is that you get to meet leaders who are keen to improve the safety culture and performance of their organisation. These are the proactive folks who 'get it' – they know that the effort required to reduce injuries also delivers improved efficiencies right across the company. Experience has shown them that if something is inherently unsafe then it is also probably inefficient, and vice versa.
Often, these leaders will have recently taken on a role at a new firm and their experience and intuition tells them that safety isn't where it should be.  Just last month I got a call from an old friend and client who had taken on an executive role with a leading Sydney council.   One of the first things he said to me was –  "You know Bernie, I'm not sure what is wrong – but the safety culture just doesn't feel right to me"
He was right. We did a high level WHS review for them – concentrating on the controls around high risk activities and on the safety culture across the group. We were then able to identify the major gaps and work out some steps they could take to improve.  By the time we got to the leadership presentation the light bulbs were coming on across the room and I knew we had hit the mark for them.  However, the qudos goes to the intuitive leader who could sense there was a problem.
This scenario is fairly common, so if your experience and intuition are telling you that something isn't right with your safety program, you are probably correct.  However you need to test your theory – just to make sure it wasn't the effect of last night's pizza!  The easiest way to do this is to commision an independent WHS review which will highlight the problem areas and provide a roadmap for improvement.
For those wanting to understand a litlle more, we will outline the steps for a WHS review in the following section:
Overview of a WHS review 
Our approach to a WHS review is to firstly understand our clients concerns, and then use a combination of overlapping methods to establish the nature and extent of the issues. In most cases clients will want to know the following things:
How well is the organisation managing high level safety risks in their business ?
Have they got the right WHS team and structure to support them ?
What is the level of management commitment to safety like ?
What is their safety culture like and how does it benchmark against other leading organisations ?
Can you give us a simple roadmap that will improve safety?
To answer those questions we use the following techniques to gain an insight into the business and its people:
We conduct confidential 1:1 interviews with a cross section of staff and understand their points of view around the way the organisation manages safety.  The feedback is collated in a way that responses are not able to be traced back to a particular individual.
Our senior consultants conduct site safety tours and make observations around safety risks and their controls. They will form an opinion around the safety culture by observing work practices and listening to site based staff.
We use relevant relevant safety data such as incidents, hazard reports, safety committee minutes etc to validate the comments and observations captured in steps 1. and 2.
After all the information is collated and analysed we will hold sessions with leadership groups where we will "hold up the mirror" on their safety performance and key issues.  In most cases safety culture is benchmarked against a global model.  We will commonly refer to Professor Patrick Hudson's model (shown below) to position the organisation relative to global peers.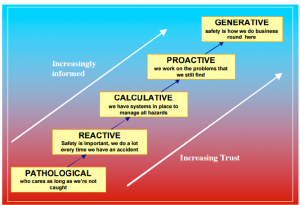 Lastly, we will provide clear and simple recommendations as a roadmap to further advancement of the safety culture.  We usually finish by asking those present if they are willing to make the commitment to change as in our experience, the commitment to change is the main ingredient for success.
Regards
Bernie Walker