Fatal Risks in Construction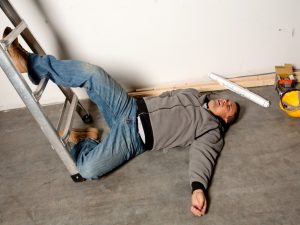 Trends in Fatalities
Every year in Australia, approximately 30 people are killed in the construction industry and according to SafeWork Australia, there are an astounding 12,500 serious injuries in the Australian construction industry every year.
Understanding the causes of fatalities
In the 12 years between 2003 and 2014, there were 417 construction workers killed at work. Falls from a Height were the single biggest category, killing 117 workers. Breaking this down further, we can see three main causes of falls:
Falls from building structures – mainly roofs – lead to 54 deaths
Falls from ladders accounted for 28 deaths, half of which were a fall of less than four metres.
Falls from Scaffold (12 deaths)
The table below, provided by SafeWork Australia shows all categories :
Prevention Through Planning
Adams & Dalton in their article "Prevention through Planning" (Professional Safety . March 2018) analysed the causes of these falls in more detail and found four common situations that lead to a fall from height:
Loss of balance near an unprotected edge
Lack of awareness of an opening or unprotected edge
Task performance places a worker in a fall-permiting situation
Mechanical failure of a supporting structure
Their research also identified 5 strategies that can be employed to minimise the risks of falls:
Strategy 1 : Bring Down The Work, by building sub-assemblies on the ground, installing meters and guages so that they can be read remotely, and routing piping so that valves can be serviced on the ground
Strategy 2: Minimize time required at Elevation – as greater energy is typically required to do the same tasksin an elevated position
Strategy 3: Make Elevated Work Easier by considering design that will consider ergonomic principles, minimize the need for over – exertion, provide safe and secure footing, and aoid taks that require prolonged holding of an object.
Strategy 4: Select the Best means of Elevation for the Task
Strategy 5: Ensure fall arrest systems are working effectively.
Conclusion
Falls from a height are the biggest killers of construction workers worldwide and falls are often due to that momentary lapse or slip that can affect anyone. However by building in safety at the design phase and working closely with the site leadership and construction teams many of the risks can be minimized.
Related Tags: Safety Consultants Melbourne | Hazardous Industry Safety Consultants
Professional
Company WHS Review
Ensure your organisation isn't making critical WHS mistakes by getting expert advice before it's too late.

"Such a culpable culture can exist only when leadership from the Board down are careless in respect of safety. That cannot be allowed"
We are known by the company we keep